Belmont Renew: Belmont's Mobile Device Retail Trade-In Program
Belmont's Trade-In for Retail Operations platform consists of both Front of the House (FOH), Back of the House (BOH), Catalog / Price Management and Reporting modules. Our dynamic FOH allows us to accept, evaluate and price devices considered for trade-In. The BOH module offers automation to traded devices, inventory management and shipping automation integrated with major Logistics providers. Our Catalog and Price Management engine consists of sophisticated, proprietary systems and business processes. Our pricing algorithms include real time and historical sales data compiled from Belmont and competitors from around the world.
Check out how quick and easy our process is:
All it takes is a few steps!

Online Trade-In:
Seamlessly embedded into Shopping Basket operation
Real time IMEI verification
Traded device evaluation and pricing
Transaction tracking from initiation to fulfillment
Real time reporting using Partner's Portal
Apple Find My iPhone detection
Google anti-theft detection
Samsung account detection
Rooted device detection
Stolen device check against global GSMA blacklist database
Omni-channel:
Customers can transact online and / or in-store
Partnering with with the right company is key to enable. Belmont to offer a multitude of 'Reverse Logistics' options with complete tractability and transparency
Leveraging regional processing hubs we are able to reduce risk and time closing the transaction out sooner with the customer
Each transaction will have its own unique reference which is traceable throughout the entire process. Whether sat in store awaiting collection, or in transit with a courier from a customers home / office
Providing an Omni-Channel solution widens the opportunity for trade-in to support integrated propositions for customers, giving a consistent truly multi-channel experience.
Real Time Reporting
Integrated into trade-In POS pricing, partner portal enhanced functionality, Secure, cloud-based delivery on any device, Data representation supports Partner, region, locale, store, and sales associates levels, Stores sales reporting, Quote Acceptance targets monitoring and reporting, Store level inventory aging reporting, Instore inspection assessment reporting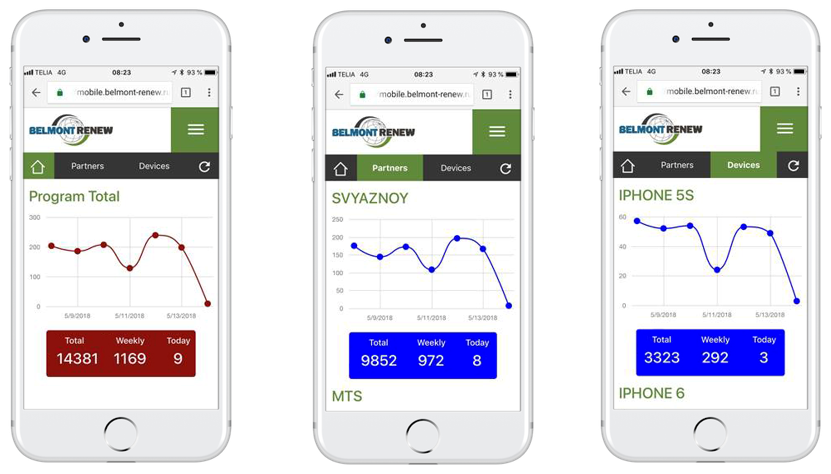 Volume and Product Mix Reports
Completed trade-Ins broken down by trade-ins issued at the store, inspections at processing facility and revenue
The volume of each product type quoted or traded at the store

Faults and Variance reporting
The faults recorded at receipt in Belmont Processing Center. The difference between the in-store trade-In value and the inspected value represented as a % (variance)
TAT – Turn Around Time reporting
Time required (days) to deliver to the Belmont Processing Center devices from trade-In confirmation, and time to receive, triage and process into FGI at Belmont Processing facility
If you'd like more information, please fill out the form below and one of us will be in touch with you!